Charcoal
Charcoal (Charlie), now Oliver, has a wonderful forever home with Megan Kleinert and family.
This is Charcoal (AKA Charlie or Chaz).  Charcoal is such a sweet and gentle bunny.  He is a small Lionhead mix.  He never struggles against being picked up.  He will snuggle with you for a while and let you hold him.  Charlie is an all-around good guy and would make an exceptional addition to your family.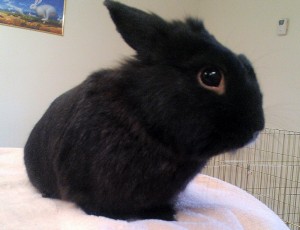 This bunny in BHRS foster care needs a permanent home. All BHRS rabbits are spayed/neutered, litterbox-trained, and socialized.