Cherish Truelsch
Cherish Truelsch has found a new home with Amanda Waibel and family of Litchfield.  She even has a new bunny pal, Phineas, to hang out with.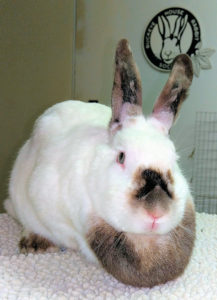 Cherish Truelsch is a beautiful and unique-looking Californian.  She was found wandering the neighborhood in the scorching July heatwave.  Cherish is a sweet girl who is looking for a home with someone to snuggle up to, someone who can show her that she is special and loved.  And just look at that dewlap!   Cherish was chosen for a Name Our Next Foster Rabbit donation by David Truelsch.  Thank you, David!
This bunny in BHRS foster care needed a permanent home.  All BHRS rabbits are spayed/neutered, litterbox-trained, and socialized.