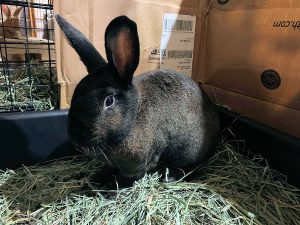 Mooselini was found running the streets of Cleveland with his brother Franklin.  Although he is not as cuddly as some bunnies, we suspect that will change.  He can be a bit shy at first, but will come out of his shell with time.  His cuddle factor has already increased greatly.
Please contact Stephanie Lodge

@

216-571-1088
This bunny in HRS foster care needs a permanent home.  All HRS rabbits are spayed/neutered, litterbox-trained, and socialized.