Moose
Mooselini (aka Magic Moose, aka Moosey) is happy he has found his forever home with Jane Winik and Queen Bee (an adorable, opinionated lop).  He is taking advantage of all of the amenities his new home has to offer — he loves to hide under fleece blankets, escape his pen, and learn all about the stairs.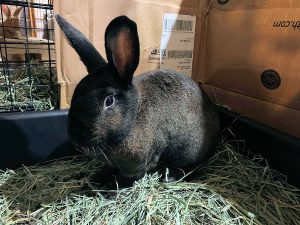 Mooselini was found running the streets of Cleveland with his brother Franklin.  Although he is not as cuddly as some bunnies, we suspect that will change.  He can be a bit shy at first, but will come out of his shell with time.  His cuddle factor has already increased greatly.
This bunny in HRS foster care needed a permanent home.  All HRS rabbits are spayed/neutered, litterbox-trained, and socialized.