Copperfield
Copperfield — now Peanut Butter — has done his magic and made new mom, Kristie Depolo (sister of Katie Liepold Kristler), fall in love.  The new bunny mom is absolutely smitten!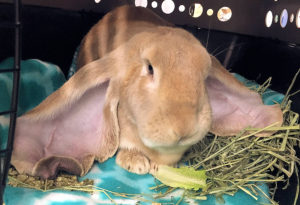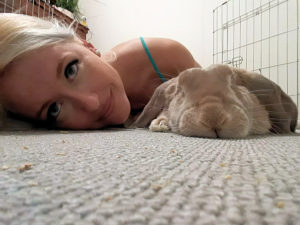 Copperfield is a magical bunny who wants your attention most of all.  He was found, along with a number of other English Lops, discarded by someone in a park.  He is still a little skittish, but once he knows you're his friend, he is a very loving bunny.  The magic trick with Copperfield is to go slow and let him make the first move.  Copperfield would make an excellent house bunny to be given free range.  While outside of his pen, he has great litter box habits and will follow you around room to room looking for pets or treats.  Copperfield has the potential to possibly bond with another rabbit but would need someone as mellow as himself.  He even likes dogs!  Bring a little magic into your life and adopt Copperfield.
This bunny in BHRS foster care needed a permanent home.  All BHRS rabbits are spayed/neutered, litterbox-trained, and socialized.