Cyndi Lopper
Cyndi Lopper has been adopted not only to a fabulous new mom but also, unexpectedly, she has a boyfriend.  When Tara fell in love with Cyndi, she had an idea — what about adopting Jefferson as well?  Much to our surprise, Cyndi and Jefferson were already bonded!   They had been having an affair through their pen walls.  Congratulations, Tara, on adopting two of our most unique bunnies.  Bonded bunnies are the best.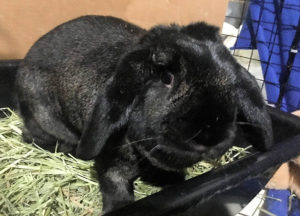 If you are looking for a bunny who will flatten out for pets at a moment's notice, this is your girl.  Cyndi Lopper, or just Lopper, has only a right eye but she doesn't let that get her down.  She's wonderful with her litter box and isn't opposed to meeting new bunnies.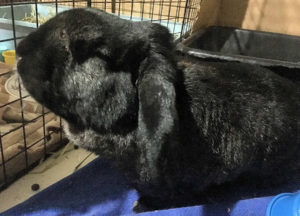 This bunny in BHRS foster care needed a permanent home.  All BHRS rabbits are spayed/neutered, litterbox-trained, and socialized.