Jefferson
Jefferson has been adopted not only to a fabulous new mom but also, unexpectedly, he has a girlfriend.  When Tara fell in love with Cyndi Lopper, she had an idea — what about adopting Jefferson as well?  Much to our surprise, Cyndi and Jefferson were already bonded!   They had been having an affair through their pen walls.  Congratulations, Tara, on adopting two of our most unique bunnies.  Bonded bunnies are the best.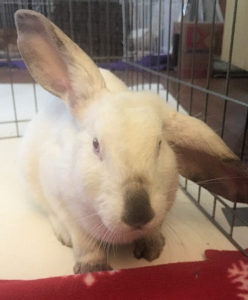 Jefferson (named after the song White Rabbit by Jefferson Airplane) was found living behind a dumpster at a tire shop in downtown Cleveland.  Jefferson is absolutely wonderful.  This young man has great litterbox habits and he is as friendly as they come.  Plus, he is a legendary flopper.  Anyone would be lucky to adopt him!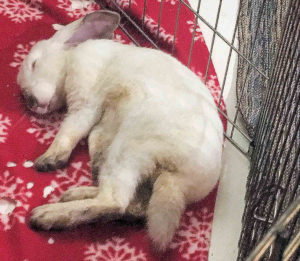 This bunny in BHRS foster care needed a permanent home.  All BHRS rabbits are spayed/neutered, litterbox-trained, and socialized.