Frances Ferdinanz
Little did Frances know that when she went to her foster home, she was also going to her forever home.  During her three months in foster care, Frances changed from a shy, scared bunny to an outgoing diva.  She loves to lounge with Netflix in the background and to throw toys at passing humans.  Congratulations to Maggie and Frances Ferdinanz!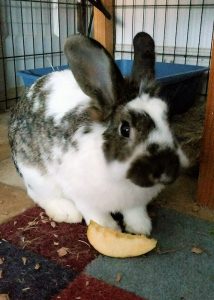 Frances is approximately one year old, with a furry face like a Lionhead and smaller upright ears.  She is very curious and often comes towards the sound of your voice, only to hop away and come back again.  She enjoys lounging and arranging towels and other fabrics around her.  She is a little camera shy but she loves a good piece of apple and will pose for you if you give her a snack.
This bunny in BHRS foster care needs a permanent home. All BHRS rabbits are spayed/neutered, litterbox-trained, and socialized.