Guinness
A toast to Guinness!  He has a new home with Sally Wood & Jeff Wolf and their adorable bunny Lily.
Guinness is the color of the beverage and has the spunk of a wee Irishman. About one year old, he is adorable and although very small, he has the personality of a giant.  He is sure to delight you with his charm.  This great escape artist loves people and food and will do anything he can to find either.  Guinness will require lots of free range time and attention.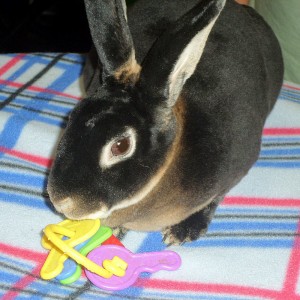 This bunny in BHRS foster care needs a permanent home. All BHRS rabbits are spayed/neutered, litterbox-trained, and socialized.