Meet Henry! Henry is a special guy and a survivor. He was found as a stray in the February blizzard. His eye needed medical attention right away but despite our best efforts, Henry lost his eye in March. Having only one good eye hasn't slowed dear Henry down one bit. He is super sweet and is searching for his forever home.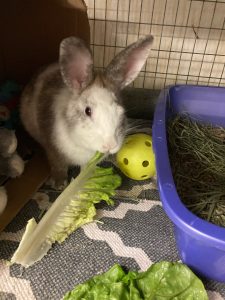 Please contact Stephanie Lodge bhrs-stephanie@ohare.org 216-571-1088
This bunny in HRS foster care needs a permanent home. All HRS rabbits are spayed/neutered, litterbox-trained, and socialized.