Penelope
Penelope has found her forever home at long last — and a boyfriend named Paisley.  Her new mom, Stephanie, is working on bonding the two and the match is going well.  Congratulations, Stephanie!!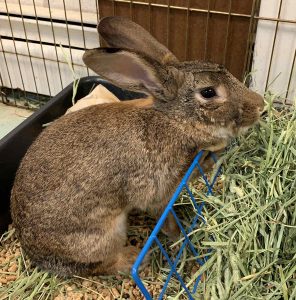 Penelope looks just like her sister, Pixel.  She is big, beautiful, and brown.  She loves to explore and is looking forward to a forever home where she can run and show off her binky skills.
This bunny in HRS foster care needed a permanent home.  All HRS rabbits are spayed/neutered, litterbox-trained, and socialized.