Rosa
After spending her entire life in foster care, Rosa — now Gracie — has found her forever home with Megan Metzger in Columbus.  Gracie even has the honor of being the "bedroom bunny".  She is loving ALL of the attention!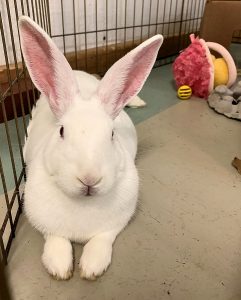 Rosa (sister to Daffodil and daughter of Jayme) is adventurous when no one is looking.  We are confident her fearless attitude will become more apparent once she finds her forever home.
This bunny in HRS foster care needed a permanent home.  All HRS rabbits are spayed/neutered, litterbox-trained, and socialized.