Tessah
Cindy and Carmella love Big Momma (Tessah) and all her antics.  Big Momma likes to arrange her pen "just so" and keep an eye on her kingdom by prairie doggin'.   She has still much to explore!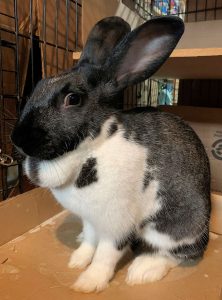 Tessah (aka Big Mama) is one of the many bunnies rescued by the 2019 Sandusky humane investigation.  Shortly after her arrival, she gave birth to nine babies.  She was a wonderful mother and remains an outstanding bunny.  She is quite loving and has great litter box habits.  Big Mama weighs in at a healthy nine pounds.  Tessah is located in a foster home in Cleveland, OH.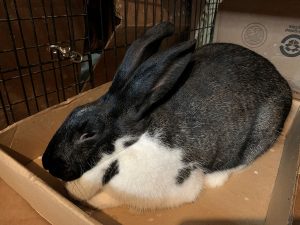 This bunny in HRS foster care needed a permanent home.  All HRS rabbits are spayed/neutered, litterbox-trained, and socialized.